BAILER'S CONTEST 2020 FREDDY賞 by Carlo Freddi from Italy 
2020.11.01

第一回BAILER'S CONTEST 2020 FREDDY賞 by Carlo Freddi from Italy
配信でも発表させて頂きましたが、この度FREDDY JAPANが日本におけるFREDDYのPR活動の一つとしてBAILER'Sコンテテストの動画をイタリアのFREDDY社に送ったところカルロ社長にとても感動して頂き、ファッション賞としてFREDDY賞及び直々にコメントを頂けることになりました。
みなさんの熱い気持ちが一つになった映像がCarloさんを動かしたことにFREDDY JAPANも感動しております!
第3回目のI promise youからとなりましたが、今後は土曜日(次回は11月7日(土))の予選映像の終わりに毎回 FREDDY賞を発表させて頂きます。
それではあらためて第一回FREDDY賞「I promise you」 by Carlo Freddiを発表させて頂きます。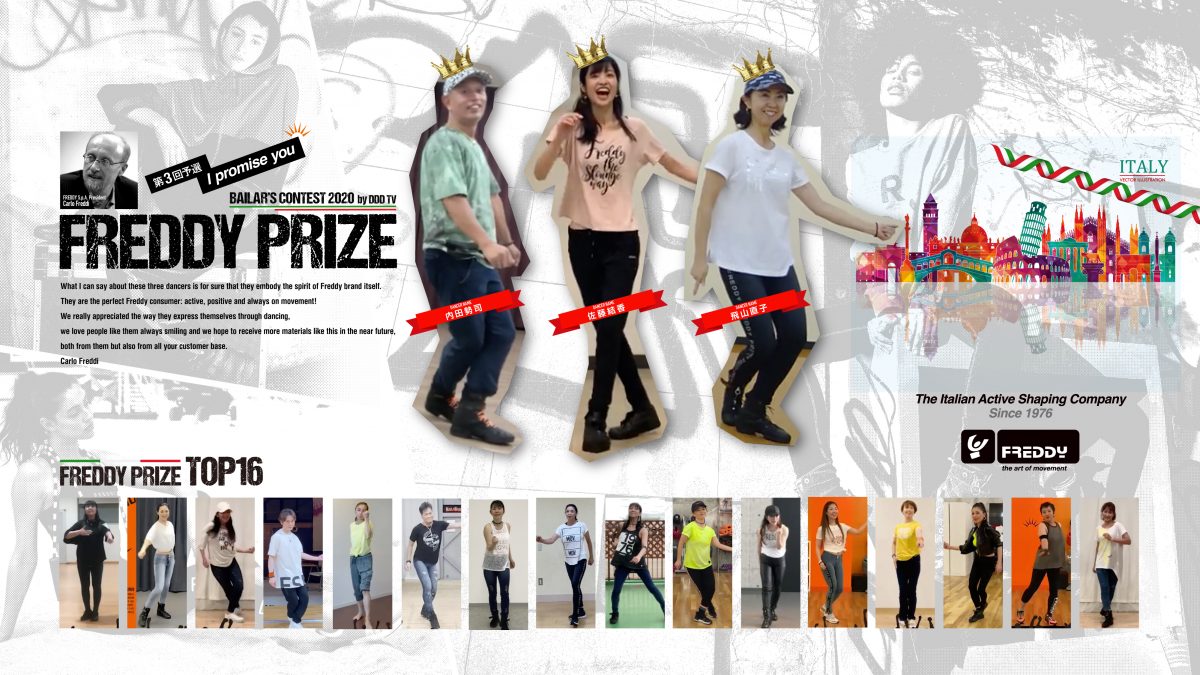 What I can say about these three dancers is for sure that they embody the spirit of Freddy brand itself.
They are the perfect Freddy consumer: active, positive and always on movement!
We really appreciated the way they express themselves through dancing,
we love people like them always smiling and we hope to receive more materials like this in the near future,
both from them but also from all your customer base.
Carlo Freddi
TOP3 :賞品FREDDY商品券クーポン(1万円)
佐藤結香
飛山直子
内田勢司
TOP16:賞品FREDDY商品券クーポン(5千円)
宮下敦子
上田庸子
羽土敦子
小島龍也
東詠子
山本一幸
児玉恵美子
松本由美子
佐野由美子
笹川有子
冨樫むつみ
武藤りえ
野口由香
柏美紀
小川バベリン
川勝幸子
おめでとうございます。
次回は11月7日(土)「Forever you and me」予選映像の最後に第4回と第6回を同時発表予定!